Marlowe's Revenge release party. Dan will read a few chapters and play some songs from the Marlowe trilogy. Refreshments provided, admittance free.
High Res Photos (please credit)
Europe:  Chris Metzler / chris@decorrecords.com
North America: marlowebillings@gmail.com
PRENSA 
Dan Stuart releases new novel.
Marlowe's Revenge out october 15, 2022 on R&R PRESS.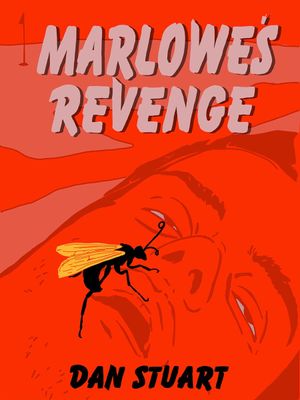 WATCH: Trailer for Marlowe's Revenge 
As a novelist, Stuart has penned a trilogy of taunt literary thrillers starring his alter ego Marlowe Billings, and the finale, Marlowe's Revenge, is set in the '90s and cinches the series, but easily stands alone as well. New York Times best-selling noir author Tod Goldberg says Marlowe's Revenge is "sun-bleached desert noir at its finest. Violent, funny, weird, and 100% original. Count me a huge fan." 
Self-effacing and from the gut, Stuart's prose captures the pith and pain of too much self-awareness. His fiction is populated by losers, misfits and sociopaths who struggle with internal demons, drugs, murder and love, on both sides of the border, skirting both sides of the law. Marlowe's Revenge is eagle-eyed, fast-paced noir, an accomplishment that recalls — and will engage fans of — Elmore James, Jim Thompson, Cormac McCarthy and Charles Willeford. 
Bob Mehr, the Grammy-winning New York Times bestselling author of Trouble Boys: The True Story of the Replacements sums it up well: "With his Marlowe's Revenge, former Green on Red frontman Dan Stuart offers a pulp meditation of bad men doing bad things, the hopeless and hapless that surround them, and the cascading nature of addiction and regret. Marlowe's Revenge is part murder mystery, part faded love story, part redemption tale (without much redemption). Beautiful, twisted, and real — this is high desert poetry about low people. As a memoirist and noirist, Stuart continues to be a goddamn revelation." 
FOR MORE INFORMATION, INTERVIEWS WITH STUART OR REVIEW COPIES CONTACT:  
Maggie or Brian Smith || randr.press@gmail.com 
R&R PRESS. 
# # # 
WHAT OTHERS SAY ABOUT MARLOWE'S REVENGE: 
"I want to thank the El Tiradito shrine that Marlowe Billings rides again. Dan Stuart was in one of my favorite bands, Green on Red, and now has created Marlowe Billings my favorite golf loving, ex-junkie, trouble-collecting miscreant. With Marlowe's Revenge, Dan Stuart proves once again he keeps getting better and better. —WILLY VLAUTIN, award-winning author of The Motel Life, Lean on Pete and The Night Always Comes 
"In Marlowe's Revenge, Dan Stuart provides us multilayered characters who walk familiar and coveted sites in their search for reckoning with the city's past, and their own. Their interwoven worlds and lives are both thrilling and fascinating."  —LYDIA R. OTERO, author of La Calle: Spatial Conflicts and Urban Renewal in a Southwest City, and In the Shadows of the Freeway, Growing Up Brown & Queer 
"Finally, Tucson gets the neo-noir novel it deserves: gritty, romantic, broken-hearted, and surprisingly funny."  —STACEY RICHTER, award-winning author of short story collections My Date with Satan, and Twin Study 
"Marlowe's Revenge is top rate screwball noir, a finger clicking mix of guns, drugs, golf and rock & roll. Think Carl Hiassen, Dave Barry and Laurence Shames, with a little Charles Willeford on the side. Hip, hardboiled and hilarious." —ALLAN JONES, author and former editor of Melody Maker and UNCUT Magazine, author of Can't Stand Up For Falling Down: Rock 'N' Roll War Stories  
"A merciless, funny and reluctantly empathetic novel that places Dan Stuart's dusty lower Arizona on some fractured literary roadmap between Jim Thompson's West Texas to James Ellroy's Los Angeles. Plus, golf. And a sinking rock & roll star." —BRIAN JABAS SMITH, author of novel-in-stories Spent Saints and Tucson Salvage: Tales and Recollections from La Frontera
June 27, 2019 
October 11, 2018 
August 01, 2018 
July 18, 2018 
July 11, 2018 
June 21, 2018 
Uncut Magazine — Rob Hughes 
July 01, 2018